Post by Vanellope von Schweetz on Mar 1, 2013 23:48:35 GMT -6
(If the code flips out blame Vanellope. Its probably her glitching again.)
You don't seem like you're from around here, kupo. What's your name, kupo?
Vanellope looked suspiciously at the odd looking creature that was suddenly floating before her. It wasn't much smaller then she was to be honest, but to her it
looked
completely ridiculous. Vanellope giggled, wondering exactly what this silly looking thing was. He spoke to her, its voice, even more funny. What game had she suddenly stumbled into!?
" Vanellope von Schweetz, What's it to you big nose?" She said with a big playful smile.
Is that what everyone calls you, kupo?
"Course not, people calling be by my full name would be dumb. I get called a lot of things… like kid, and other meaner things like 'the glitch' but whatever. Call me Vanellope."
That's a good boy name, kupo. You are a boy, are you not, kupo?
Vanellope raised an eyebrow at the creature. "Pfftt. You've
got
to be kidding me. Funny joke." She play hit the moogle. "I'm a Prince
ss
I'll have you know, so you should be nice to me or you could get in trouble!" She added, sticking her tongue
Apparently, you cannot tell when I am joking, kupo. You must be an old man with no sense of humor, kupo. How old are you, anyway, kupo?
Vanellope was actually having a lot of fun with this creature, it seemed to share a similar sense of humor. Hopefully more "people" in this game where like that. This could be a lot of fun!
"Don't you know you're not supposed to ask a girl that? Where are your manners?" she answered with a pretty big smirk. She put her hands in the front pocket of her jacket and looked up "I'm not some smelly old man, your nose getting in the way of your eyes? I'm nine!"
You are the funniest moogle I have ever seen, kupo. What sort of creature are you?
"I'm the funniest what now?" She raised her brow again, and tilted her head to the side. "What do I look like I am? I'm a person, a glitch, but still a person!"
Well of course I can't see you very well, with you standing in the shadows like that. How could I tell what you look like?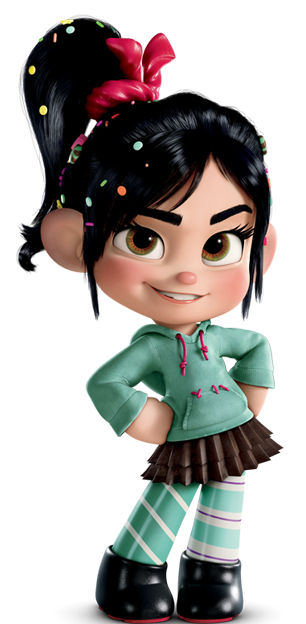 Vanellope looked around, she didn't think she was standing in the shadows, but if this thing said so. "Well maybe if you moved that hood off your face I wouldn't be all shadowy big nose."
Hmm... and where do you hail from?
"Hail? Now you're speakin' fancy? You are sure a weirdo big nose." She giggled. Vanellope put her hands on her hips and stood proudly before speaking again. "I 'hail' from Sugar Rush, It's a racing game, and I just happen to be the best racer out there!" She said proudly.
Sugar Rush is a kart racing game in the
Wreck-it-Ralph
universe. The entire game environment, and even the characters are based around sweets and candy, hence the name
Sugar
Rush. There don't seem to be many, or really any, adults now that "King Candy" has been annihilated and Vanellope regained her title of Princess of Sugar Rush. There also doesn't seem to be any other humans in the game, aside from the group of racers you, as a player, could choose from. The rest of the life in the game seems to be humanized candy creatures.
I see... That weapon you have there. What is it?
Vanellope spun around really quick, looking for what the creature was talking about. She didn't see anyone with any weapons, and she sure as heck didn't have one on her.
"What weapon? My personality?" she responded sarcastically. "My game doesn't really have weapons, no need in a racing game really. I do have my kart though!" She smiled big and proud, and snapped her fingers.
The space next to her seemed to flicker for a few seconds, before a relatively
Small (or Vanellope sized) racing car appeared next to her.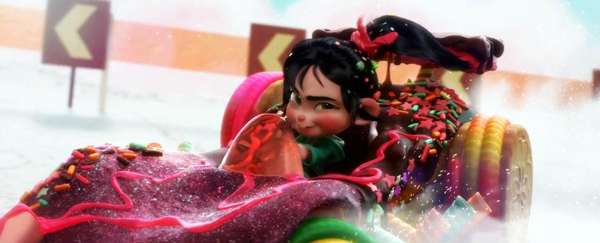 "Isn't it sweet!?" She said, but then basically started cracking up at her own pun. "Sweet, haha, its made of candy. I'm so clever!" She smiled rather cutely. "It really is pretty sweet though. Me and Stink-Brain made it, so it is super special compared to all the other racers karts! And It help me win!" she said proudly looking over her kart.
A nice weapon... but it's only so good as it's owner. Do you know any techniques?
Vanellope rolled her eyes. "You don't like to listen do you big nose? It's not a weapon it's a kart! But I do know a few things!"
Kart Summon
Vanellope has learned the ability to seemingly obtain her Kart from out of no where, via her semi-control over her glitching. Its always technically with her, all she has to do is snap her fingers and it'll appear.
Vanellope's kart can do a few things, such as run things over, and basically run into things at high speeds, but, keeping in mind its material, and that it's best it doesn't get ruined, that isn't really much of an attacking force.
Glitching
It's built in Vanellope's code. Although her true identity and abilities were restored to her, since the incident of having all of that taken away, she still has a good amount of glitches. They aren't quite as often, or as severe however.
Glitching basically makes either a small part of her body, or her entire self (and kart sometimes) glitch just like a video game. A sort of blue-ish code will appear where the distortion is for a brief second before turning back to normal. This is most commonly shown if something like, say her arm glitches out, her code-make up of her arm would briefly show instead of, well her arm.
But sometimes it will cause Vanellope to completely warp to a different location is it's a bad enough glitch.
Other skills
Due to her size, Vanellope is pretty fast. In addition to her glitching allowing her to suddenly just be somewhere else, if you aren't intently watching her, she could basically do this on her own. With her playful nature she does enjoy confusing people.
Hmm... Being here you must surely have a past. Can you tell me about it?
( SPOILERS SPOILERS)
"My…. past? What'dya wanna know that for?" She asked, shoving her hands in her pockets and looking down.
"I mentioned before. I'm from Sugar Rush. I'm the main character, and Princess…. But then this stupid-head evil guy tried to delete me, and I became a glitch." Vanellope sighed. Turbo, a racer from an old game that Sugar Rush had essentially replaced had taken over a character called "King Candy" and did in fact try to delete Vanellope from existence, to free up a spot for him to be the main person again, and race in Sugar Rush.
"I didn't remember anything about being so important for a long time. But, I did know that I was a racer, I could feel it in my code! The other Racers, mainly, Taffyta and her gang liked to bully me… They wouldn't let me race with them and made fun of my glitching…" She looked back up with her eyes, without raising her head, giving off the "kicked Puppy" look.
"They actually destroyed the first kart that I had made all by myself because they didn't want me to race that badly. But, things got better when I met Stink-Brain. He's from another game, Fix it Felix Jr., But he was the bad guy in that game. Vanellope smiled thinking about Ralph. "He ran away from his game so he could get a Medal and be a Hero. Cause like me, people weren't very nice to him. I never thought that he was really a bad guy though. He's very nice actually."
She looked over her kart again, having not dismissed it yet.
"He and I made this together." she gestured her hand towards the kart. "It was pretty fun. He's good a wrecking things so he helped me get into King Candy's Kart making room. Ralph also made me a track inside Diet Cola Mountian and taught me how to drive! Which, I picked up pretty quick is I do say so myself!" She looked up confidently.
"We had our rough spots, I thought Stink-Brain turned on me, and King Candy put me in this glitch proof stuff. Not. Fun. But he ended up coming to save me."
"Ralph used his medal so I could enter in the Random Rooster Race, and everything was going fine, I was actually winning until things went all hey-wire. These bug things ruined my race and everyone in Sugar Rush had to evacuate… but me being a glitch, I couldn't leave my game. Ralph went off to fight the big scary bug-king guy, I don't even know how to explain that really, and he was going to sacrifice himself for me… But you know, I can't let that happen! So I took my kart and I saved him from falling in the lava!"
" And then Felix fixed the finish line, which had been destroyed by the scary bug things, and Ralph push me and my kart across it. So technically, I won that race! But that isn't event he best part. Sugar Rush reset, and my identity returned to me! It turns out I am the Princess of Sugar Rush, and the main character! Unlike King Candy had said, I actually am really liked by the players. They love me glitches and all! So yeah, things turned out well!" She said smiling enthusiastically.
Then answer this... what kind of person are you really?
"What kind of question is that? What kind of person am I?" she huffed. "Look Mr.Big Nose whatever you are, I don't know how to go about answering your philosophical questions, I'm just a kid! How am I supposed to know what kind of person I am? I'm just myself!" She put her hands on her hips.
Vanellope honestly just didn't understand how to answer that question. It was apparent throughout this little interrogation however her lack of tacking things completely seriously. Vanellope's natural personality is sass and sarcasm. She is rather confident in herself, maybe a little too much so sometimes. She likes to be fun and playful, and is really happy when people like her and want to be her friend. She also enjoys teasing people, hence the constant nicknames she gives everyone.
She does however know that she is still a kid, and people
may
be smarter then her, even if she won't openly acknowledge it. And she will
not
go down without a fight.
So then, what side do you affiliate with?
Vanellope looked confused, and looked to both sides of her. Was she supposed to have a side she "Affiliated" with more then the other?
" Are you trying ask what hand I write with or somthin? Cause I'm right handed, but I don't see why that's a think you wanna know."
Vanellope's actual "side" would defiantly be independent, by easily swayed toward whoever is her friend.
Every strength is wielded for a reason. What are your dreams and aspirations?
"Dreams huh? Oh I don't know. I'm pretty happy with how things are right now! I got my biggest dream already, which was to get to be a Sugar Rush racer. But now, I dunno. I guess I would like to continue to be liked by the players, cause that is a lot of fun. And I'd like to be able to see Ralph more aside from across the arcade… but I know game jumping isn't a good idea…"
Though it seems trivial, perhaps you should tell me what you like?
"I like racing! And I like hanging out with Ralph. And I guess I like being princess too cause everyone has to be nice to me." She laughed a little mischievously. "I like that people like me more now. I'm not just the glitch everyone hates."
Assuming you're telling the truth, then you surely must have dislikes. Do you care to reveal those?
"I don't like bullies. That's just about it. Bullies are the worst." Vanellope stuffed her hands in her pocket again, looking frusterated recalling being bullied by everyone.
Interesting. Do you acknowledge your weaknesses?
"Psh, No, ya crazy!? I have no weakness! Look at me, I'm adorable! How could I have a weakness!?"
She would never admit it, but her weakness is when people won't accept her. While she can be independent, Vanellope wants to be accepted, so it hurts when she is not.
Weaknesses are strong when they are acknowledged. I'm sure you have strengths as well...
"I guess I have a strength of getting along with anyone really, no matter who they are. And of course, that I'm a great racer! The players love me!"
I never would have guessed, kupo! So, tell me, kupo.. What's the secret password, kupo?
( I can tell you if this is really needed of me? I know what it is but don't want to give it away for others haha)
I am running out of time here, but before I must go, how did you find your way here?
(You bros should know by now haha. Brought here by Atty :3 AND IMA ADMIN XD)
__________________________________________________________
Cbox/User Name:
(Serah, Meanie Miss Farron; Yuna; Vanellope)
Current Characters Accepted:
(Serah Farron, Yuna)