Post by Serah Farron on Nov 12, 2012 5:06:28 GMT -6
U-uh, Excuse me, kupo? What's your name, kupo?
At first Serah had turned to Mog when she had heard the Moogle speak, being used to that certain tone of voice moogles had coming from him. She tilted her head a little confused, but still smiled at the new Moogle. "My name is Serah Farron!" She said with a rather cheerful tone in her voice, then turned her glance to Mog, who was staring at the other Moogle curiously. "This is Mog…." She said a little confused. Usually he would have spoken up for himself….
Is that what everyone calls you, kupo?
"Well, people just call me Serah usually, not my full name."
That's a great name for a girl, kupo! You... are a girl, aren't you, kupo?
"Yes, oh course I am!" She giggled slightly, trying to mask her confusion as to why this moogle even wants to know.
"I'm not a girl Kupo!" Mog chipped in.
O-of course! I was just... messing around, kupo! Ahem. Anyway, kupo. Uh. How old are you, kupo?
"Well, I'm 21 years old…" Serah glanced at Mog again. Neither of them actually knew Mog's age… She looked back again, smiling a little awkwardly. Hopefully the Moogle would understand.
Really? Everyone lately seems to be strange, kupo... so... no offense...but what species are you, kupo?
"I understand… people can come in all sorts of forms. I'm Human though."
"And I'm a Moogle! Kupo Kupo!!"
I knew that... It's just this light in here, kupo... my eyes can't focus... what do you look like, kupo?
Serah looked a little concerned at the Moogle. She was still confused as to why it wanted to know the answer to all these questions, but she figured it was for a good reason.
"Well, my hair is pink, and I keep it up on the side, I have blue eyes…" She looked down at her clothes, not exactly sure how to explain them. "My clothes are a little complicated. Essentially I'm wearing a dress."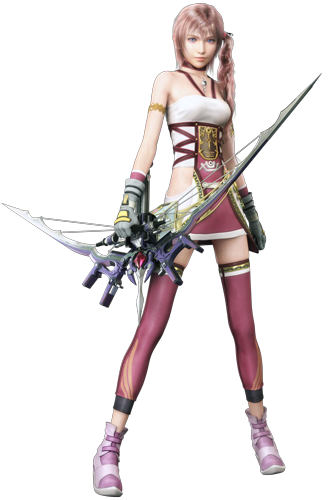 Mog giggled slightly at Serah's unsure response. "I'm a Moogle like you Kupo! I just look slightly different kupo kupo!"
I-interesting...Which world is your home, kupo?
Serah crossed her arms, trying to figure out how to even go about answering that question. Explaining her home was always complicated.
" I was born on a world named Cocoon. It was held up in the sky over a world called Gran Pulse. After Cocoon started to fail a group of people and myself moved down to Pulse and started a small community there."
I see... That's an interesting looking weapon, kupo. What do you call it, kupo?
Serah blinked, rather confused and looked around, thinking the Moogle must have been commenting on someone else's weapon that passed by. Unless… could he somehow sense that Mog was also her weapon?
Mog seemed to sense Serah's confusion, and decided to explain for himself. "I'm not called anything besides Mog, Kupo!" he remarked happily.
Cool! Do you know any attacks, kupo?
"I'm not really one for making many physical attacks, I'm more of a magic user. I know basic elemental basic, and very basic healing magic."
Serah's powers:

Ravenger

Fira & Flamestrike: Using the element of Fire, Fira is slightly more damaging then plain fire and can be simply thrown towards an enemy. Flamestrike on the other hand relies on a physical attack merged with a fire spell.

Thundara & Sparkstrike: same concept as Fira and Flamestrike but with thunder/ electricity.

Blizzard & FrostStrike: Blizzard is the basic ability to use ice magic, and Froststrike infuses that with a physical attack.

Aero & Galestrike: Same idea as Blizzard, basic element mastery
Medic

Cure & Curasa: Diffrent levels of healing magic. Curasa is more effective, but takes longer.
Cure heals for 5 HP
Curasa heals for 10 HP


Cool downs:
Elements: 3 posts
DMG: Low
Strike abilities: 4 posts.
DMG: Medium
Curasa: 5 posts.
Damage assessment complete
That's not bad, kupo..! Can you tell me anything about
your past, kupo?
Serah looked off towards the ground a ways to the side of her. "I'm not so sure you
want
to hear about that. But I guess I can tell you." She sighed.
"Both of my parents died when I was still pretty young, so my older sister, Lightning, took care of me after that." She paused for a few moments. Just thinking about her sister brought her mood down slightly, She missed her so much…
"things were "fine" for a little while. I graduated high school, and Lightning became very busy once she got promoted. I got a boyfriend, His name is Snow. My sister never liked him much." That thought made Serah smile slightly. Even if she had wished that they would get along better, sometimes the fact that they didn't was just a little amusing to her.
" Around the time of her birthday… I was made into a L'cie, enemy to Cocoon. I didn't know what to do at first honestly. I was scared. But most of all, I didn't want to hurt any of my friends." Serah glanced up, but still not directly at the Moogle. "Then I remembered that I had people I could count on, and would help me. I told Snow first, because honestly I was afraid to tell Lightning. He proposed to me not long after. He went with me when I went to tell her…. But Lightning didn't believe me. Serah looked at the ground again, recalling exactly how Lightning had acted that day. Nothing had ever hurt Serah so much as when her own sister hadn't listened to her.
"Snow did his best to help me. I wouldn't have even made it to the fal'cie without him." She paused again, simply trying to put things in order in her head.
"The next thing I really remember is that He, and Lightning both came to save me. I really understand it at the time, but my focus as a L'cie was to bring everyone together. Then I was turned to crystal, where I stayed for a while…." She didn't really want to have to think about what it was like to be crystal again… Although it wasn't as bad as death, it still wasn't enjoyable.
Serah had paused again, knowing that what she was going to explain next was the most confusing. "When I woke up from my crystal sleep, everything was happy for a few minutes….Lightning gave Snow and I her blessing and she was actually smiling….But then it ended and suddenly she was just gone. I was the only one who even remembered her being there in the first place." Serah looked up towards the sky, again trying to sort her thoughts. "A few years passed and a small group of us, including Snow, and his group of friends moved down to Pulse in order to start up a civilization there. Without the fal'cie, Cocoon wasn't doing so well. I became a teacher in what we named New Bodhum." Serah sighed again. "Snow left me to go find Lightning… He always trusted me when others didn't. So he knew she was out there, somewhere. One night, a meteor crashed into New Bohdum, and everything changed for me. I met a boy named Noel, and he became one of my closest friends. He had met Lightning, and actually that is where Mog came from. She gave him to Noel to give to me." she paused, knowing that last sentence sounded confusing.
"Noel and I traveled through time, fixing paradoxes in hopes that the future would change for the better." She stopped again, and placed her index finger against her chin, thinking. "Time Travel is a little hard to explain, so I'll save that. I learned throughout our journey that I had a new fate. I was, or am, I'm really not sure, able to see visions of the future once it changed. However, like Yuel, the visions came with a price. Once Noel and I defeated Caius, and fixed the final paradox, we made it back home; I had my final vision, and this may sound strange… but I died." Serah smiled a little nervously. She didn't really want to tell people about that, in fear of people thinking she was weird…
"The last thing I remember was seeing my sister again. She was in Valhalla… and very upset over my death. I tried my best to help her in the time I had, and my final wish was her to not forget about me…" Serah's eyes had started to water, but she quickly whipped any tears away from them.
"Then I just sort of… woke up here." Serah sniffled quietly. "I'm sorry for talking so long…
Hmm... well, could you tell me what kind of person you are, kupo?
Serah tilted her head to the side a bit. "I guess you could say I'm a very curious person, or at least that is what I've been told. I enjoy learning new things.
I think I'm generally a pretty positive person, and I generally trust my instincts.
I get along with most anyone, if they are kind to me in return. " She giggled a bit. "I suppose I have a bit of an anger-problem if something really frustrates me. I get it from living with my sister…" Serah smiled a little sheepishly. She sort of wished that that didn't happen, but there was nothing she could really do to change it.
"Overall, I know that I am someone who is willing to give themselves up for the sake of others. I'm most happy when the people around me are as well. I'm pretty loyal to my friends, and my sister. I would do anything for them if there was even the slightest chance it could help."
Mog had decided to float about a bit since Serah had been talking about her past. He already knew about most of that. He returned to Serah's side soon after she was done however. " I like to have fun! Kupo Kupo!" Mog answered in a rather mischevious little voice. "And I like to help Serah! Kupo!
Serah turned her head and smiled at him.
...Oh, kupo... Then... what side do you fight for, kupo?
[/color][/b]
" I'll fight for the side that has the most positive outcome honestly…And whatever my sister is on, I would never go against her."
I don't mean to seem like I'm prying, but what dreams and aspirations do you have, kupo?
Serah smiled again, this was an easy question for her. "I really only have goal. I want to be with everyone again. I want my sister and I to be together again, without having to be pulled apart by some force out of our control…. I miss her a lot…." Serah sighed. "And I want whatever future we end up in to be happy…I'm lucky enough to be able to have another life, and I don't want to be as lonely as before…"
Ah, that makes sense, kupo... sorta... well, what do you like, kupo?
Serah giggled lightly, this question just seeming a bit silly to her. "Things I like? Hhhmm… She put her index finger to her lower lip and thought. "Well, aside from my sister and my friends, I like people in general, and cats. I had a cat back home. They're so fluffy and cute! I like the beach too. It reminds me of home."
Me too! Then, what do you dislike, kupo?
"I don't generally dislike things. I guess the biggest one is when things become hard or frustrating. I don't like that at all."
I'll remember that... what's your weakness, kupo?
" My… weakness?" She asked confused. "Oh, I don't know. My lack of experience has been a problem in the past." It was the best answer she could come up with.
N-not that I'd ever attempt to use that against you or anything, kupo...! Er... next question! W-what is your strength, kupo?
"The people I love are my strength. I will fight for them above all else."
I never would have guessed, kupo! So, tell me, kupo.. What's the secret password, kupo?
One Sky.
Ah, well I am afraid I must go, kupo. One last question before I do, kupo. How did you find your way here, kupo?
(I was brought here by Atty~ <3 )
__________________________________________________________
Cbox/User Name:
Serah or Kuri
Current Characters Accepted:
N/A.