Naminé
Nov 2, 2012 0:57:10 GMT -6
Post by Namine on Nov 2, 2012 0:57:10 GMT -6
U-uh, Excuse me, kupo? What's your name, kupo?
Naminé sat on the bench drawing as usual when a small voice reached her ears. She looked over the top of her sketchbook and saw a ball of red dangling before her. Her bright blue eyes followed the stem that the ball was connected to and looked eyes with a Moogle. "Hello. My name is Naminé." She said with a smile.
Is that what everyone calls you, kupo?
Naminé nodded to the small creature. "Though….some people do call me a Witch."
That's a great name for a girl, kupo! You... are a girl, aren't you, kupo?
The Memory Witch giggled. "Hahahaha. I am most definitely a girl."
O-of course! I was just... messing around, kupo! Ahem. Anyway, kupo. Uh. How old are you, kupo?
Naminé simply smiled at the Moogle from over her sketchbook when he said he was just messing around. "My age?"She blinked at the question. "You know I never really thought about that before." She brought the colored pencil up to her chin and mover her eyes skyward in deep thought. "The truth is my age is a bit confusing. I guess Kairi would be about 16 years old…so that would put me in the same age range by looks." The girl looked back down at the Moogle. "But I have only been in existence for two or three years."
Really? Everyone lately seems to be strange, kupo... so... no offense...but what species are you, kupo?
The girl in white found herself nodding at the little furry creature again as it asked if she was really the age. She knew what the next question was going to be before the Moogle even asked it. She had just given it two different ages. So of course it would want to know what species she was to have such an age. "I am Nobody." She said simply. "I am a creature that is said to be born without a heart and emotions….but." Naminé paused. "But there has to be more to it than that. Because I know that for some reason I do feel…somehow. Please. Please don't be afraid of me." She begged the creature.
I knew that... It's just this light in here, kupo... my eyes can't focus... what do you look like, kupo?
Naminé was thankful that the Moogle didn't seem to be afraid of her. So as a thank you she decided to move from the bench and sit down on the ground so the little Moogle could see her better.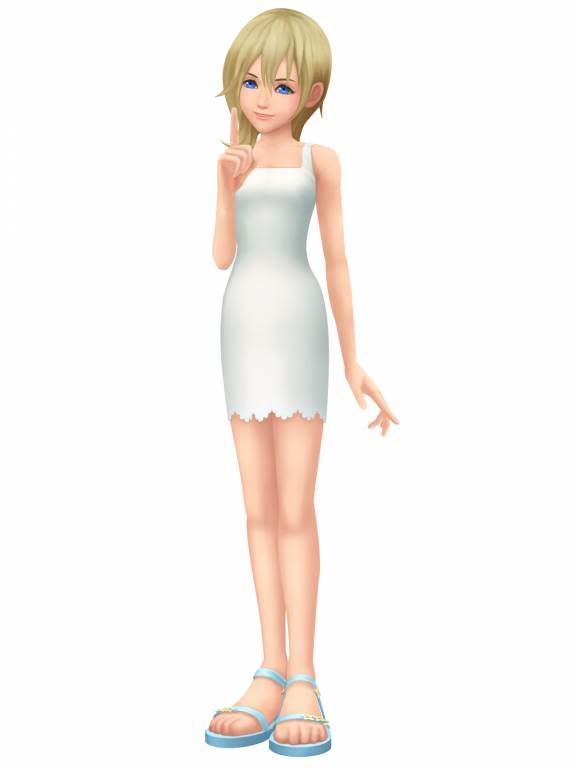 "There. Is that better?" She smiled kindly and began to draw in her sketchbook once again. She was enjoying the company.
I-interesting...Which world is your home, kupo?
"I-I don't really have a home." The Nobody managed to look sad or maybe she was truly sad. "I have been a prisoner since I existed, and I am only now free of those prisons. Organization 13 kept me in Castle Oblivion and DiZ kept me locked up in old mansion in Twilight Town. Before any of that I saw the world from my other half's eyes. So-so I guess my home world is like my heart…I am said not to have one."
I see... That's an interesting looking weapon, kupo. What do you call it, kupo?
Naminé didn't hold anything against the Moogle for its questions. She knew that it was just trying to understand her more…which was more than anyone else had ever done. Still, she was happy that the next question went in a different direction which was more pleasant to answer.
"I don't have a weapon you really wield." She explained. "I can turn people's memory and hearts against them if I wish to. So the mind and a sketchbook is my weapon." She said as she drew. "But who knows what the future may hold."
Cool! Do you know any attacks, kupo?
Naminé took a deep breath and began explaining what she could do.
"
Mind Manipulating:
I can change my appearance into another female from Sora's memories. I am able to use their basic weapons and abilities. My power will only be half of the original persons though" (Duration is cut in half if applicable or HP is only decreased by half of the original damage the one would take if attacked by the person). "If I use the abilities of the person then I can only use two."(That person's cooldowns and durations will apply [or cut by half], other durations and cooldowns that are of characters that are not currently taken be a member of this site will be given out fairly if used and are subject to editing for fairness. If she turns into a person then she can't turn into someone else on the same turn. She has to turn back into original self, wait for her cooldown, and then she may turn into someone else.)
[Duration for combat: Two posts]
[Duration for non-combat: None, she is just in that person's form to play mind games.]
[Cooldown: Two post]
Damage is lowered one damage level dependent on what the character she's impersonating
"
Instant Amnesia:
My enemy is encased in a white flower shaped prison for a few seconds that causes them to forget a topic of my choosing.The Flower is an allusion so it is interesting to watch people try to escape it…but they can't."(However, she will wait until a specific memory or thought has been created in order to eliminate it. In other words the memory would already have to exist in order to be eliminated.)
[Duration: 4 posts. This is for how long the memory is forgotten for not how long one is in the flower pod. ]
*note: Duration can last longer if approved by staff and person that this is cast upon for plot reasons
[ Cooldown: Once per thread]
*note: She can use it more than once per thread only if people ask me to use it on them or for plot reasons. Please contact me by Pm if this is the case. This power can't make a person forget why they are in an area or event unless they asked for it personally via Pm. She can't make them forget that they were ever born because it doesn't work that way but she can make them forget who they are.
"
Memory implant:
This is the counterpart power to Instant Amnesia. I am able to implant a false memory into the enemy's head. I am also able to use this power to counter instant Amnesia. So I can make the person remember what they have forgotten."
[ Cooldown: Once per thread]
Summoning:
"I can summon the lesser Nobodies called
Dusk:
These are Nobodies that any higher Nobody can summon. Up to 2 Dusks come to my aid per battle. The can Attack by hitting enemies with their long sharp fingers or by slithering between their legs to trip them up. They also defend me by taking the hit for me so no bodily damage is inflicted".
(Dusks will die the moment after they are hit. they are able to dodge on attack each)
[Duration: until enemy eliminates all 2 Dusks.]
[Cooldown: One post after all have been defeated or dismissed.]
"I can summon other Nobodies known as
Creeper Nobodies:
Again these are Nobodies that any higher Nobody can summon. Up to 2 Creepers come to my aid. They Attack by hitting enemies by turning themselves into weapons. They are able to turn into a sword, lance, or shield. They can be wielded like weapons or they can move on their own as the weapon. It is really neat to watch them transform and do this. Defense wise they can also take a hit for me."
(Creepers will die when enemy hits them with a cooldown power that equals 2. they are able to dodge on attack each.)
[Duration: until enemy eliminates all 3 Creepers.Cooldown: four posts after all have been defeated or dismissed.]
Normal, 3HP damage is inflicted by these Nobodies. They will have one turn each per post to attack while they are summoned.
"Corridors of Darkness
: I can summon up to Two Corridor to Darkness with one hand, which leads me into the darkness of the heart of a world, allowing me to travel to the darkness in the hearts of other worlds connected to it. One portal is for entrance and one if for exit. I can use this freely outside battle, but if I am drawn into combat, it takes more concentration and power to use it to move about or escape."
[Cooldown during battle: One post.]
*Note for Staff- I am Naminé on another site most of these are her being powers I used for that site. If you wish me to link you to the site and prove that I am that Naminé in some way then please let me know and I will do so to prove that it is my work.
That's not bad, kupo..! Can you tell me anything about your past, kupo?
Naminé stopped drawing for a moment and looked at the Moogle. "That is a really long story." She said. "Are you sure I am not keeping you from anything?" She felt she had to ask since Moogles were often busy little creatures. "Well if you have the time then I will tell you my story." She smiled.
"Well the best place to start is the beginning. A Nobody comes to exist when a person loses their heart. The empty shell that is left behind starts to take on a life of its own. However, I came to be in a slight different way since I was the Nobody of one of the Princesses of Heart. Kairi's heart ended up inside Sora. After Sora's battle with Riku, who was being possessed by Ansem Seeker of Darkness, he stabs himself with the Keyblade of People's Hearts. Kairi's heart was then released from the darkness and another girl was born. This girl had no heart and unlike the others of her kind she had no previous memory of who she used to be. However, she would soon discover that she had the power over one boy's memory and the memories of the people who were connected with him. She was given the name Naminé." The memory Witch wicked at the Moogle. This was starting to sound like it was story to a fairytale but it was a true story. "I guess that both Kairi and Sora are my others. You see Kairi is pure of heart which means that there is no darkness in it. So in order for me to be born I needed darkness to come to be. So it was the darkness in Sora's heart that helped the process along." Naminé kept an eye on the Moogle to make sure she wasn't scaring it.
"I ended up imprisoned by Organization 13 and was kept on the upper floor of their Castle Oblivion. The Castle is turned into a labyrinth of lost memories with help of my powers and the mysterious powers it already held. I was forced to manipulate Sora's memories when he was lured to the Castle by the Organization. Every time that Sora completed a level of the castle, I would take one of his memories and replace it with a false one of me. This was to make sure that Sora would continue his way through Castle Oblivion. The objective was to make Sora believe that he had a reason to be there to save his so called friend Naminé. In the process of trying to save me the Organization wanted him to become one of them because he had a power that they needed on the team. Sora is forced to undergo this manipulation so that Sora becomes a puppet under my control, allowing Marluxia to have the Keyblade wielder's great power to overthrow the superior of the Organization and purse thing his way. I guess everyone at the castle was starting to believe that the superior was hiding something from all of them.
As Sora transcends the corridors, Riku appears in the castle. The Organization besides that all their plans could be ruined if the two friends end up crossing paths. In response to Riku the Organization create a replica of the hero of darkness to send after Sora. The Replica is to make Sora believe that he is the real Riku and that the real Riku has turned on him. When the Replica Riku refused to play by the Organization's rules, I am forced to implant false memories into him, so that he thinks he is the real Riku. Replica Riku ends up believing that I am his long lost friend, and that he made the same promise a promise to me that Sora made to Kairi, even though now Sora believed that it was I he made the promise to and doesn't even remember Kairi much anymore. Replica Riku was even given an identical lucky charm as the one Sora had. I had two people with the same exact memory about to fight over a girl they didn't even know." Naminé paused and looked down at her sketchbook. "You must think I am an awful person for doing that to the poor boy." She sighed. Even she thought she was an awful person for it.
"My conscience eventually catches up with me, and I revealed myself to Sora after being released by Axel. I appeared to Sora in the memory version of Destiny Islands and as a memory version of myself. I told him that I was not the girl that he had made the promise with so many years ago. I revealed that he was being tricked, and to look for a faint glimmer of light in the deepest regions of his heart. That light was the light of the real person who the promise was made too.
Sora and I meet for real he exits the memory Destiny Islands back into the castle. Just then, the Riku Replica arrives. When Sora tries to help the fake Riku, the replica tries to finish Sora off. I quickly shattered the replica's memories, knocking him unconscious. I didn't mean to do it. I just wanted him to stop fighting Sora. Larxene then arrives to fight Sora, but she is defeated when she makes the mistake of harming me and angering Sora." And yet another pause passed between the Moogle and the memory witch. "I still don't understand why he did what he did.
"After the battle, I explain my actions to Sora, and expresses deep regret. Even though Iwas a Nobody, for some reason I was able to feel and at that moment I think that Sora would be beyond angry with me. Much to my surprise, Sora was completely forgiving, and besides that even though the memories of me were fakes, his feelings for me must have beenreal. I said that I could restore the original memories that Sora once had, but only after they defeat Marluxia. Sora heads off to fight him, and leaves the Replica Riku under my care. However, as I watched over the replica, Marluxia arrives and kidnaps me.
When Sora shows up I am being held captive by Marluxia. Marluxia orders me to completely shatter Sora's memories and destroy his heart. Marluxia believes he can eventually use the young Keyblader as his puppet to overthrow the organization. Remembering Sora's kindness towards me, Irefuses the order. I just couldn't do it…No I wouldn't do it. Marluxia threatens to return me to Dusk, but I stay strong and refuse once again. I am then saved by the Riku Replica's arrival. Sora, Donald Duck, and Goofy then battle Marluxia, as the replica guarded me and kept me safe. After Marluxia is defeated and the replica departs, I presented Sora with the choice of either keeping his new memories and abandoning is old ones or vice a versa. Well you can guess which one he picked. I understood his choice to have his old memories returned to him and lead Sora, Donald, and Goofy to a chamber housing white, water lily shaped crystal pods. They would sleep in these while I restored their original memories. Sora reassured me that I will always be in his heart and I know that part of that would be true. Now I had my first real promise of one day meeting Sora once again as one of his real friends. There was nothing fake about that." Naminé ended that part of her story there with a smile. Maybe she wasn't as awful as she thought she was. She picked up her sketchbook again and began to draw while she finished the rest of her tail.
"The real Riku and I met when Riku reaches the top of the castle. While Riku watches his friend slumber I offered him a chance to seal away the darkness in his heart, though he would have to sleep like Sora. Riku chooses to face the darkness on his own knowing that if Sora and himself were to sleep then there would be no one else to protect the worlds. All I could do was nod and smile at the young man knowing that in his heart he believed that he was making the right choice.
I ran into to a slight problem with putting back Sora's memories when one of Xemnas's experiments show up, a replica named Xion. This Replica was gaining Sora's memories and needed to be stopped before Sora was no longer able to recover, Xion wasn't a bad person. I don't think she even knew that what she was doing was hurting someone else. With Some help from Riku; I was able to send this Xion back to Sora as his memory. Though it caused Roxas great pain. But I knew in time Xion would be forgotten by the others. But….I have a feeling that I will see her again someday soon. And maybe then I can apologize to her and Roxas for the pain I caused both of them.
Who is Roxas you ask? Oh I guess I didn't really explain him. He is the Nobody to Sora. The organization found him when he came into existence. He was a Nobody that could wield a Keyblade and collect hearts. With the data the Organization got from him, Sora, and Riku, they were able to make Xion and have her wield a Keyblade as well. Roxas however was more important to them then Xion was. When Xion faded away they just shrugged it off but when Roxas didn't like the way things were going and left the Organization they did what they could to get him back before trying to eliminate him.
I was able to continue work on Sora's memory but now I run into another snag. Sora was incomplete since Roxas, Sora's Nobody, is running around. I create a memory version of Twilight Town for Roxas to live in so that I, Riku, King Mickey and DiZ could keep an eye on him and set him up to return everything he is back to Sora. In this Twilight Town Roxas is unaware of the existence of other world and Nobodies. I erased his memories of ever being in the Organization and replace them with the memories of my imaginary Twilight Town. Occasionally I would throw in a memory or two, via dream, of Sora's memories so that I could extract what I needed to make Sora whole once more.
I was kept under close surveillance by Riku and DiZ when I started to exhibit a desire to meet with Roxas. I manage to contact Roxas and guided him when he is attacked by Nobodies. I wasn't expecting that to happen so I had to do something to help him. I had planned on revealing the truth of who he really was, but ended up getting stopped by Riku, however, soon after Roxas and met again, and this time, I toldhim that he was never supposed to exist. Itold him that is he was a Nobody and will be facing his destiny as one in due time. On the final day for Roxas, we met once more as wewere now. I told him that he will not disappear, and will instead be whole. DiZ quickly tries to stop me, but before I was taken away, I promised him that we would meet again, even if we don't recognize each other.
Sora awakes with his friends and they discover that the only words that were in the journal under tasks were "Thank Naminé." They have little time to think about what this message meant since a new journey was awaiting them.
Later, in The World That Never Was, I brave getting recaptured by the Organization to rescue Pluto and Kairi from their cell shortly after they were captured. The two of them attempt to find Sora knowing that he has made it this far already and was most likely looking for Kairi. The Kairi and I search comes to an end when we come face to face with Saïx. I must say I am glad to know that I get my bravery and spunk from that girl. We were ready to take on the blue haired Nobody to escape. Upon our attempts to escape, Riku arrives and manages to drive off Saïx. I then told Riku that he can take over from this point, and left the two friends to save the day.
After the first battle the young heroes quickly discover that they have no way of leaving the place they are in, now that Riku was no longer connected to the darkness. I show up and open a portal and without really stopping to consider anything Mickey, Donald, and Goofy run through. However, Sora, Riku, and Kairi linger behind as I appear to the one last time. The last task in the journal that was keeping track of the hero's journey was complete when Kairi thanks me for my help.
I then told Sora that we met again, though he didn't understand what I meant. At that moment, Roxas steps out of Sora, and the two of us met once more, just as I promised. A new promise is made between the four us that Roxas and I could be together as long as Sora and Kairi were together. The two Somebodies promised that they would be together every day and with that I finally joined with Kairi, completing her." Naminé had finisher her past story. "I have no idea why I have returned and what it means. But I have been by myself ever since." A tear came to the Nobodies eye and she hid it behind her sketchbook until the Moogle spoke again.
*Note for Staff- I am Naminé on another site and most of it is from that history on my other app with some changes that include a fuller understand of the part that Naminé had played in all games and switch it to her telling the story. If you wish me to link you to the site and prove that I am that Naminé in some way then please let me know and I will do so to prove that it is my work.
Hmm... well, could you tell me what kind of person you are, kupo?
The Memory witch lowered the sketchbook and composed herself once again. "As I said before unlike most Nobodies, I seem to be able to convey feelings and emotions, this ability to have emotions maybe due to how I came to be in the first place. I was not born in the traditional way that other Nobodies were. Being able to convey emotions at all can be proven when I regretted what I had done to Sora's precious memories under the supervision of the Organization. I even offered to undo the damage that I had done as an attempt to repent for my actions. I think it safe to say I have a strong sense of right and wrong. I am always willing to put things right and fix my mistakes.
Given the nature of my birth, I had no memory of her past. Other Nobodies had their memories from their past lives and can get away by pretending to have emotions. However, for me, there is nothing in my mind to tell me how to act. So when I came into existence, I just followed the orders of people around me, giving me a very frail, shy, and needy personality.I really too much on others even though someday I hope not too.I would blindly cling on to whoever took me in since they appeared to have a plan and a purpose in life whether they were right or wrong in their actions.
Eventually my emotions get the better of me in two ways. One way is when I feel lonely and helps the Organization lure Sora to Castle Oblivion. I changed the memories he had of Kairi and place myself in them instead. This was a desperate cry for me to see what it might be like to have a friend as well as an order from the Organization. The other way in which my emotions changed me is when I finally switched sides and rebel against my captors. This gives me a strong determination that develops slowly I think. I am also shown to be kind and caring toward people, especially those I want to protect or feel bad for.
I am a very different kind of Nobody. I can be the manipulator or be manipulated. I am frail at times with hope of getting stronger and sometimes shy when it comes to approaching people for help. I know right from wrong and will fix my mistake. I have the ability to be brave and stick up for people. I will speak the truth to anyone who asks because I have nothing to hide. I am bot a damsel in distress and a hero, to an extent, all rolled into one. My personality is as very changing as the oceans waves. It is almost like I am my own person….almost" Naminé smiled at the end but this smile was clearly fake. A show to put on for the Moogle.
...Oh, kupo... Then... what side do you fight for, kupo?
[/color][/b]
"What side do I fight for?" Naminé tilted her head as she drew. "That is a good question and another one I have never thought about. I have friend that are both dark and light and I could never choice between them. If they were pinned against each other I don't know which side I would be on. I don't think I could pick a side. So I am going to say that I will fight for what I believe is right and leave it at that. So if that leads to dark or light will depend. I hope you don't mind."
I don't mean to seem like I'm prying, but what dreams and aspirations do you have, kupo?
"You are not prying." Naminé said to the little creature. "It would have been just another lonely day without you here. I dream, whether people believe I can or not, about what every Nobody hopes for, to be my own person. To walk around with my own heart and be able to use if for what I want to. I want to be able to make a promise and see it thru to the end without fading way. I want to exist and keep existing until there is nothing left to exist for." Naminé looked up and into the distance as she spoke. Her voice was full of hope and kindness. Just thinking about it made her full of determination.
Ah, that makes sense, kupo... sorta... well, what do you like, kupo?
The Moogle's Voice broke thru her day dream and she giggled a bit when she realized. "Sorry I guess I spaced out there for a moment. What was the question again?" Naminé listened to the question again.
"I love to draw." She giggled and held up her sketchbook. "There hasn't been much I have done since I have returned but drawing is something I can say without a doubt is my favorite thing. You can make all new worlds with them. You can make a place you can live and be happy in as you day dream. It can make you remember things you have forgotten as well. But in time I hope to experience all knew things that I might like to do as well. For Example, I am enjoying talking to you." She said the Moogle.
Me too! Then, what do you dislike, kupo?
"You too?" Naminé had a raised eyebrow on that reaction but she left it alone. Who was she too question what another person liked or didn't like. So her face softened and she smiled at the little creature.
Now the conversation was getting back into personal matters. Naminé found herself bowing her head and her bangs covered her eyes. "The thing I dislike most in the world would be to be alone in it." Her voice shook as she spoke. "Thank you." She said to the little creature. "Because if it wasn't for you talking to me right now…I-I would be alone yet again. So thank you kind Moogle."
I'll remember that... what's your weakness, kupo?
"This question and the last question are one and the same for me. Being alone is one of my weakness as well as a dislike. When I get lonely I will cling to almost anyone for companionship. Remember how I told you about the Organization? In a way that was a result of that. Being lonely lead me to believe the Organization and I didn't fight them at first because I knew if I did and managed to win then I would be left alone with no answers and nowhere to go. I wanted to believe that what they were doing was right even if they were mean to me. This clouded my judgment and at that point in time I never thought for one moment that it might be wrong. Then I met Sora and saw that we were hurting someone that just wanted live their life. So being alone for long periods of time isn't good thing especially with my power over people." Naminé talked out loud as she was putting the finishing touches on her drawing. She began to slow as she sketched out the picture. "This reminds me…I shouldn't have probably told you that."
N-not that I'd ever attempt to use that against you or anything, kupo...! Er... next question! W-what is your strength, kupo?
Naminé looked sad again. "I know you wouldn't use it against me but that doesn't mean other wouldn't." She began look around for people or spies that might have over heard her. The last thing she wanted was for the Organization to come looking for their little Witch. She didn't want other to get hurt over her…Not again.
"My strength? Well I am not sure where my strength comes from yet. I have only just begun this journey of my own. I know my drive as I said before comes from someday being my own person and having a heart of my own. After that is done if it is even possible I guess then I would know where my true strength lies. But I really wouldn't call that strength rather than an obsession." Naminé kept looking around. Her eyes would fall on the Moogle every now and again when she talked.
I never would have guessed, kupo! So, tell me, kupo.. What's the secret password, kupo?
Naminé was starting to calm down from the paranoia of being over heard by the wrong person. She looked up at the stars. "One Sky." She said simply.
Ah, well I am afraid I must go, kupo. One last question before I do, kupo. How did you find your way here, kupo?
The memory witch stood up to her full height as the Moogle turned to leave but asked one more question.
"I have friends with in these walls and Riku invited me to come and stay." She smiled as she too turned to walk away.
Naminé stopped in her tracks and turned back to face the Moogle. "Here you go," She handed the creature the drawing she had been working on for it to keep. It was a picture of the Moogle standing on top of a beautiful white water lily. And without another word she turned and started to walk away.
A shadow of a flower formed under the Moogle. The shadow soon became a really Flower. Naminé didn't want anyone to come and interrogate the poor thing if someone was trying to track her down. She would rather not be found by the wrong people and new that all the right people knew exactly where to find her. The Nobody didn't want the Moogle to get hurt.
"Thank you…" She said in a sweet voice that tried to hide the sadness as she walked down the road. "…for keeping me company. I will always cherish this memory."
The Flower would close over the Moogle trapping it inside for a few seconds before realizing it with its drawing from a mysterious girl that it would not remember."
"I am sorry." Naminé whispered.
"Instant Amnesia'
__________________________________________________________
Cbox/User Name:
Namine
Current Characters Accepted:
N/A.