Zero
Jan 17, 2013 21:05:23 GMT -6
Post by Zero on Jan 17, 2013 21:05:23 GMT -6
You don't seem like you're from around here, kupo. What's your name, kupo?
The boy-like girl looked down at the small creature at her feet. "What's it to you? My name is Zero." She replied.
Is that what everyone calls you, kupo?
"Does it seem like I have any other name? I'm an orphan." Zero has a little temper nothing to extraordinary. Though she's a teen who has been orphaned is there really any other way for someone like her?
That's a good boy name, kupo. You are a boy, are you not, kupo?
"Maybe I am and maybe I'm not. I am a girl." Zero's patience was running out. Even though it's only been three questions, it's been a long day and Zero wants to get a move on.
Apparently, you cannot tell when I am joking, kupo. You must be an old man with no sense of humor, kupo. How old are you, anyway, kupo?
"O-old man?! Old man! Why the cheek of you! Did I just not state I'm female? As for age I think I'm around 16 or 17 I don't really keep tabs on how long I've been alive for." Zero said quite angered by this creature's sense of humor. She didn't know how to react to these creatures or what they were exactly.
You are the funniest moogle I have ever seen, kupo. What sort of creature are you?
"I'm human." She said simply hoping the questions ended there but of course that won't happen. The little creature just looked too curious to stop there.
Well of course I can't see you very well, with you standing in the shadows like that. How could I tell what you look like?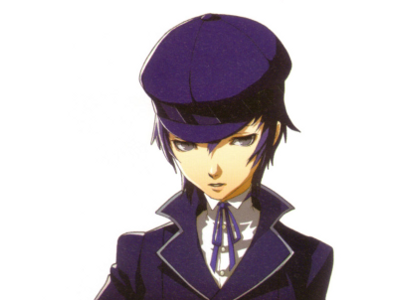 Face claim: Naoto Shirogane Persona 4 It apparently has a manga, but all I know is it's a anime based Playstation 2 game.
"I can generally be seen wearing this all the time."
Hmm... and where do you hail from?
She had to stop and think. "Earth." She had to think about how to explain it. "It's a world you wouldn't want to visit. Laboratories and Bloodgate Officers everywhere you look. If you break the slightest rule you're gone, never to see the light of the world again. Most of us kids lived out on the street either coz our parents couldn't afford it or they were afraid we'd turn out to be rebels. It was fine as long as you remembered the rules and where you stand with authority." She stopped. She couldn't think of anything else to say.
I see... That weapon you have there. What is it?
"It's a blue wooden pole-style staff. It is able to become two pieces. When in one piece it is a meter in length. When in two pieces each piece is a meter in length, reason why when in one piece it is not two meters long is because the click lock design is halfway on each twin piece. I like to call the overall weapon twin spin" She indicated where each click in lock piece was located on the separate pieces as she explained how the length worked. "To release the lock I only need press this button and use my free-hand to pull the twin piece out." She once again indicated how it was done, she was able to unlock the twin and pull it out within five seconds.
A nice weapon... but it's only as good as its owner. Do you know any techniques?
"I have three offensive and two defensive skills. My offensive skills are:
Twin spin: The staff is able to split in two with a click and a slide. It reaches a 1 meter radius knocking enemies off their feet as well as causing low damage. Cooldown is about 2 posts.
Fly Knock: is used as the single staff, I spin in a circle and implanting my foot in the ground spinning the staff around to hit with enough impact to send an enemy flying about a meter away from me. Causes medium damage and cooldown is about 3 posts
My third and final offensive skill is:
Feet Swiper: Used in single form, I swings at my enemy's feet hopefully causing them to lose balance, it does low damage and cooldown is 1 post." She stopped to make sure the moogle was listening. "My defensive skills are: Single Block: Used in single form, is most effective against sword and other staff bearers as I can use my staff to block in any way a sword does, so I can use the basic horizontal, vertical, over head, upper diagonal and lower diagonal blocks. It can take up to three sword blows and two staff blows and cooldown is 3 posts.
My other defensive skill is:
Twin cross: Similar to Single Block but has the other half supporting it from the opposite direction. It can take up to four sword strikes and three staff strikes. Cooldown 3 posts."
Hmm... Being here you must surely have a past. Can you tell me about it?
"I can't remember where I was born or who my parents were, but I do remember my parents did look after me until I could walk and talk. I think my father was a dreaded Bloodgate Officer. That's probably where I get my temper from. Anyway so when I could walk and talk my parents put me out on the streets. I remember finding an alleyway where a bunch of kids hung out. They could see I was young and new out on the street and so they took me in. They trained me to fight, they helped me learn how to survive the streets." She paused to take a deep breath and sat down to tell the remainder of her past.
"As we were kids and out on the streets we had to know how to fight, and like I said they taught me how to fight, but the kids formed groups, and taught each person an individual style. I happened to work well with a plain wooden staff. I soon became one of the group's best and we were known as the House of Samurai. We used mainly weapons that a samurai or ninja might use. I was the master of the staff, our leader Kuran was the master of the arts and two or three others were the masters of the sword. We created competitions with other groups which soon caught on, and in a few weeks there were the House of Air, the House of Fire and the House of Water. The House of Air's area of expertise were air projectiles like throwing knives and shurikens and the like. The House of fire used a range of weapons as long as they could burn it or make it hot. The House of Water were good in wet weather and used a range of close combat weapons." She tilted her head to the side as she thought about this particular moment of the past.
"The prize for winning these battles was to hand over a small portion of what the loser has stored. Each house has three storage holes in their territory. One for weapons, one for food and drink and another for clothes and other necessities. Soon groups from other parts of the world came to compete and watch these tournaments. And when the Bloodgate's found out, they came after every group slaughtering them. The House of Samurai hid me and a few other young ones to secure our safety." She paused hugging her knees tightly at the memory.
"After the Bloodgate Officers left, all the younger ones that were hidden came out. We didn't know what to do except to stop the tournaments and create trades. If the trade was good enough we'd accept it. Though we never traded our weapons. Anyway back tracking a little, When I beat all the houses I became champion and was asked what type of weapon I'd like, and I chose this staff. Now back to the trades, after awhile things had died down and we were back into usual business pick pocketing passersby. And then came another year with the newbie's out on the streets though some of them seemed to have survived at least until the age of 13 (same age as me at the time. Some kids weren't thrown out on the streets straight away, some parents had found uses for some kids.) and once again came the Houses and their tournaments, except this time we were careful enough to keep it city-wide only." Zero thought about the newbie's and one newbie in particular.
"There was one guy who I was training and had made it into the House of Samurai who I began to like. I didn't know he had the same feelings yet. As we starting becoming the House of Samurai again we began to train harder and harder, not just for the tournaments but to defend ourselves against the Bloodgates. Because not all peace lasts for eternity. And it came time to hide the younger ones and fight. We didn't just give up like our predecessors oh no, we fought and we were successful in making them leave us alone for awhile. As the years wore on The guy I trained told me he liked me and I told him that I liked him too. But he said it wasn't possible and he was right, because then our world was being destroyed and now I'm here wasting my time talking to you." Zero stood up and dusted herself down.
Then answer this... what kind of person are you really?
"People say I'm protective of others and defensive of certain subjects I'd rather forget. I suppose I can be kind but I do have a temper. Some of my more personal beliefs are that you can be who you truly are if you unlock yourself. Basically meaning everyone is who they are, but not who they can truly be, and if you look within yourself and acknowledge strengths and weaknesses, personality and nature you can become who you truly are. I guess I can't say much else." She thought about the things she hadn't said.
Then again, I am open and closed, I may care for my friends but
not much else. I am kinda feisty when my temper does split. Some say I am clever and can outwit people if I needed to. I guess I'm like a locked journal or the stars. Can only be opened with a lock. In other words you need to be someone I trust, but like the stars portray the two main sides of a person. Stars open and kind, the night background, closed and guarded and I'm not the type to sit around for too long either.
So then, what side do you affiliate with?
[/color][/b]
"Myself and myself only.Unless I have friends that are from the light or dark."
Every strength is wielded for a reason. What are your dreams and aspirations?
"I…I..I don't think I aspire to become or do anything. I'm content as I am. I guess it's kinda strange that I don't have anything I wish to become. Since everyone has something they dream of doing. I don't have any of that. I just want to stay true to myself." Zero said quietly. It was true she doesn't want to be anything or do anything apart from staying true to herself.
Though it seems trivial, perhaps you should tell me what you like?
"I like my staff, and the friends I made back home though I may never see them again. I guess I like reading and studying, though I like combat and action. I'm not the type to sit around a lot."
Assuming you're telling the truth, then you surely must have dislikes. Do you care to reveal those?
"I don't think there's much that I dislike. Apart from the Bloodgates which I never have to see again. Though I suppose I don't really like anything sweet." It's true! She just doesn't have a sweet tooth.
Interesting. Do you acknowledge your weaknesses?
"I can't stand watching my friends suffer. If something happens to them and I'm nearby I'll jump in, no matter the cost. I did say I was defensive."
Weaknesses are strong when they are acknowledged. I'm sure you have strengths as well...
"I guess what gives me hope is seeing another day. The past is long gone and the future is at our doorstep everyday and one of those days could be our death. So I guess my strength comes from just being here today to see the sunrise and sunset."
I never would have guessed, kupo! So, tell me, kupo.. What's the secret password, kupo?
So that was what that guy she passed earlier was mumbling about. Something about a password that had two words. "Password. Surely you jest?" She questioned tilting her head on the side thinking deeply, she had heard a weird phrase from the same guy mumbling about a password. "Perhaps it's 'One Sky'?" She stated as a half statement-half question.
I am running out of time here, but before I must go, how did you find your way here?
You happened to be an ad I came across.
__________________________________________________________
Cbox/User Name:
Zero
Current Characters Accepted:
N/A